Africa Greys are among the most intelligent animals in the world. These parrots are incredible pets as they eagerly socialize and play with their owners. Besides, they are capable of learning quite an impressive vocabulary of human words and phrases. So who wouldn't want this pet in their homes? 
However, African Grey is quite a large bird. Of course, it's not massive as most Macaws, but its size requires enough space in your home for a big cage. This is a necessary requirement to let them stretch their wings – both for the parrot's mental and physical health. 
African Grey parrots require an massive cage with plenty of room. It should be big enough to contain perches, toys, food, and allow the parrot to open its wings fully. Usually, the bigger you get, the better. However, any owner would like to spend money wisely and find the perfect balance of price and quality. 
Let's check what size of the cage is comfortable for African Grey Parrots.
Minimum Cage Size for African Grey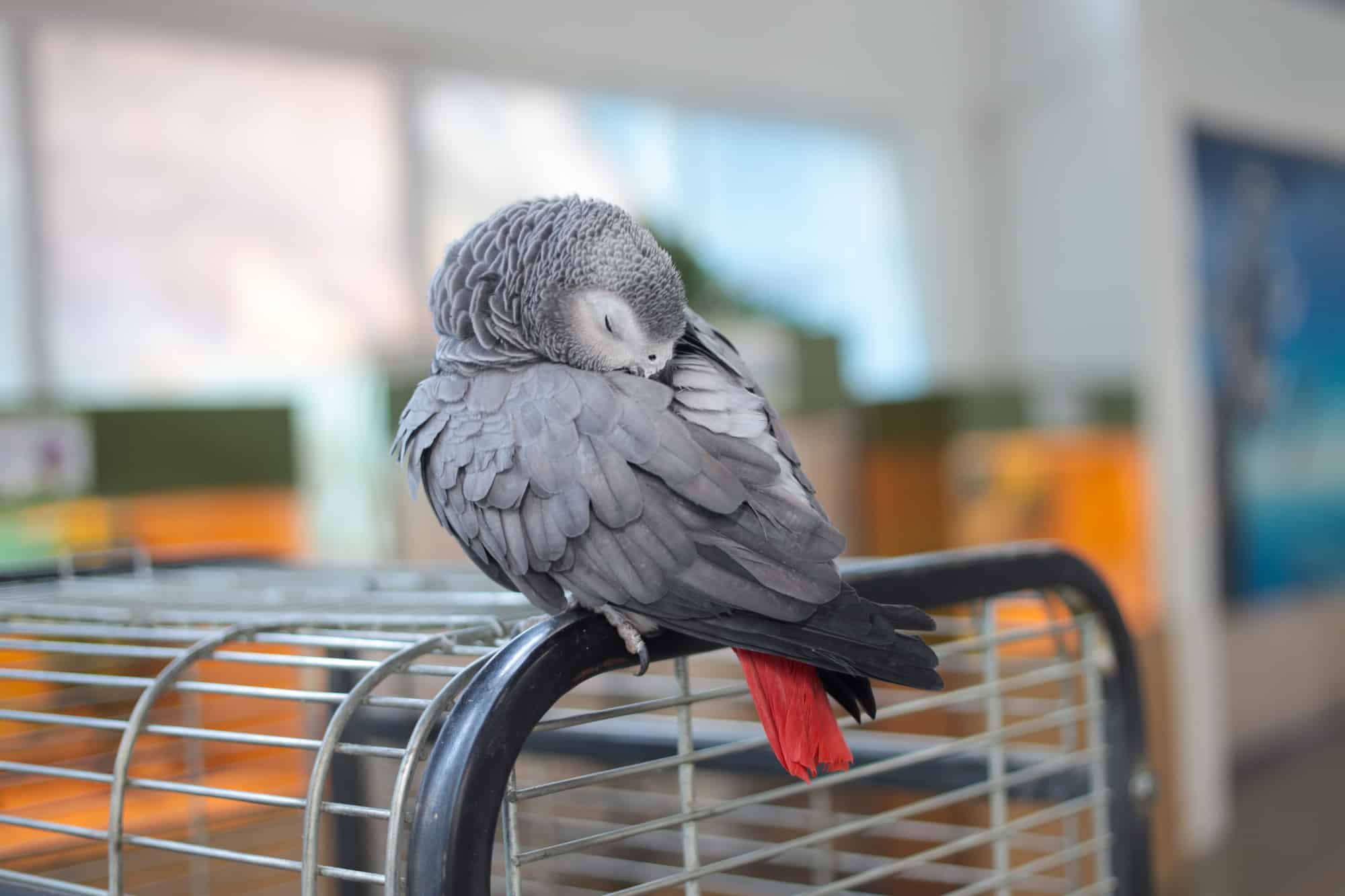 The minimum recommended by experts is 36″ x 24″ x 48″.
A cage of this size is more than enough for a young parrot, but for a grown-up bird, it's the minimum space needed to stretch its wings on occasion. If you want the bird to feel "freer" in the cage, you'll need something bigger, of course. 
The bar spacing is also an essential factor you should consider. For this type of parrot, it should fall somewhere between 0,75″ and 1″. Proper bar spacing will ensure the safety of your parrot and its beak foremost! 
What Are the Best Parrot Cages? Learn How to Choose One!
Additional Functions 
In my experience, the proper cage for African Greys comes with a play and top. You should always consider the size a bit bigger than recommended to leave room for several perches and toys. These parrots like to interact with the surroundings and throw toys around – give them space for that! 
Look for a secure lockable door on the cage! Prevent escapes! Even if your bird is a friendly and gentle creature, its curiosity will nudge it towards trying the door for sturdiness. So make sure it has a secure lock. 
Best African Grey Parrot Cages
I have three best cages for African Grey parrots for you to choose from what's available on Amazon; all of them are acceptable, but one is perfect! 
Cage dimensions: 37 x 23 x 63 inches; 34 pounds 
Originally, this is a cage meant for several smaller parrots. However, it's easily assembled and disassembled inside to organize a place for a single big bird. Also, the additional perches and attachments can be used for toys, feeders, and so on. 
The cage comes with a play top, just as I recommend. 
I like that this cage has a stand to place all your bird pellets, toys, and other paraphernalia. Speaking of pellets, you should also check the review of the best parrot pellets in 2021! 
The two large front doors give you easy access to the birds and every corner of the cage to clean! The doors are also secured with bird-proof jams!
A cool feature – a pull-out bottom brill. You cannot imagine how easy it is to clean a cage with this feature compared to the standard ones!
Disadvantages: 
0.43-inch wire spacing; the recommended spacing should be bigger. While this may not be an issue on a regular basis, you'd want to stick to professional standards ideally. This disadvantage is not crucial for your pet's safety but should be noted. 

initially designed for multiple smaller parrots 
This is yet another cage I'd recommend buying from Amazon. 
Cage dimensions: 46 x 36 x 78.25 inches; 70 pounds 
This is a heavy cage for a massive parrot! Yes, it weighs whopping 70 pounds, but it is long-lasting. 
African Greys are big parrots when compared to budgies, at least. The cage is made for Macaws, most of which are massive. Though, the bigger cage is also acceptable for African Grey Parrots. Thus, they'll have plenty of room for toys and to stretch out. 
It includes: 
Three stainless steel bowls;

One hardwood perch;

Pull-out bottom grille with rounded corners.
You can also remove the bottom grille and assemble another living space area below if the need comes. 
Aside from the metal tray, the cage is made of non-toxic and pet-safe powder-coated steel. 
All the paraphernalia, such as bowls and trays, is securely attached and cannot be tipped by parrots. 
Disadvantages: 
Wire spacing is a bit over 1 inch. Admittedly, that's not the perfect spacing for African Grey, but adult birds can safely live in such a cage. For younger birds, choose a temporary smaller cage with thinner spacing;

No play top;

Reportedly, a large bird as a Macaw can slightly bend the bars if persistent, but a smaller African Grey won't be able to do that. 
Cage dimensions: 36 x 24 x 66 inches, 54 pounds 
I consider this the perfect cage for an African Grey. While the previous two options had minor drawbacks, this one is ideal. For my taste, as least. 
Everything from the designs to the interior to quality is top-notch. 
The cage contains: 
Four stainless steel cups;

Two wood perches;

Play top;

rounded "seed guard";

pull-out tom and bottom trays and grille.
This cage also has metal trays and steel bars with non-toxic and pet-safe powder coat similar to the previous option. 
Wire spacing in this cage finally falls under the standard – 0,75 inches. 
Over 1,700 positive reviews on Amazon prove the top-notch quality of the cage and its durability. 
How Much Does An African Grey Cost?
Personally, I find the design of this birdcage the most pleasing of all options. 
It also should be mentioned that all three cages are equipped with easy-rolling casters, so you move the cage around with no effort at all. 
In conclusion, I'd like to highlight that when buying a parrot, you should be ready to provide comfortable living arrangements for it. The bird is now your responsibility. A proper high-quality cage is a crucial part of the bird's well-being. 
So, I recommend not chasing the cheapest options but finding the right balance of quality and price!