Jardine's parrots are among the most popular pets due to their gentle, sweet, and sensitive nature. But in addition to their loving nature and a sharp mind, these parrots are quite active. They love to do tricks and often need a lot of space to climb and cling to the cage's bars.
At the same time, Jardine's parrots need constant communication with their owners and their family members because they are very friendly. So which cage is suitable for Jardine's parrots?
You need to choose a spacious cage with a play-top to give your pet the opportunity to play and interact with you. At the same time, the cage must be large enough to allow your parrot free movement and healthy exercise.
There are different options. However, I prefer Vecela wrought iron cage for Jardine's parrots. It has many advantages and is excellent in all respects. Let's take a look at the details.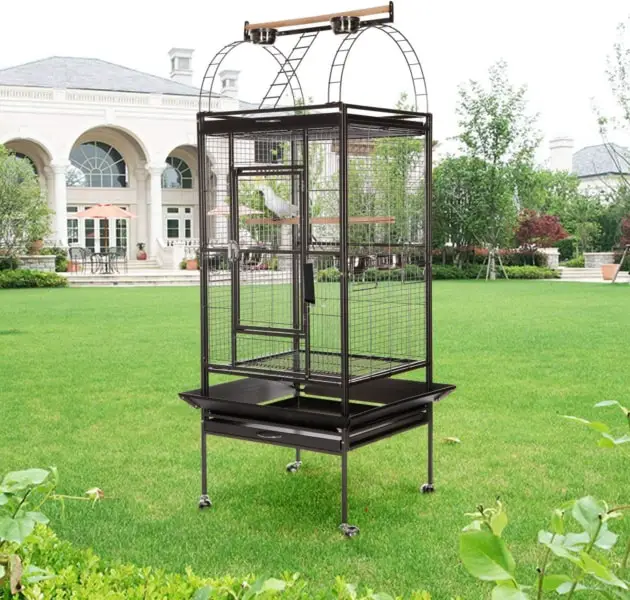 VECELA Wrought Iron Flight Cage
This cell has many advantages. It is large, and thus your parrot can move freely, play, and fly without restrictions. Jardine's parrots will find this cage particularly attractive due to its shape and additional equipment. It contains a wooden perch, an accent ladder, and two circular ladders, as well as two beautiful feeders. It is a great playground for your pet, and they will definitely appreciate it.
The bars of the cage are very reliable, and your parrot will not be able to bend them and get out. The bars are perfectly positioned vertically and horizontally to make it easier and safer for your parrot to climb inside the cage. Lots of room to move around will help your parrot stay healthy and fit.
What Are the Best Parrot Cages? Learn How to Choose One!
The cage is equipped with comfortable and durable rollers that allow you to move the cage inside the house and even outside. It also has a pull-out tray on the bottom that allows you to clean the cage effortlessly in a couple of minutes. For me, this is a very important parameter because cage hygiene is an essential factor in your parrot's health.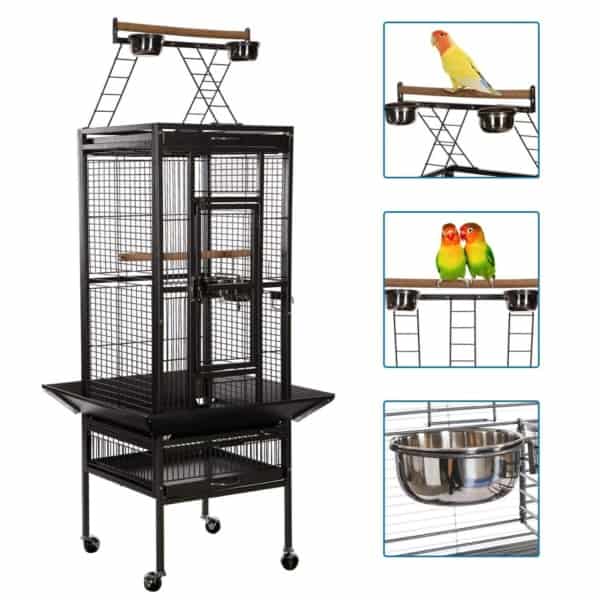 Key Features and Benefits
The Vecela cage has especially strong and durable bars arranged vertically and horizontally so that your parrots can comfortably climb on them without hurting themselves. Also, the bars are strong enough to protect your pet from escaping for a long time. The horizontal bars give your parrot a great climbing experience in any direction.
This cage has circular ladders that allow your parrot to practice various grasping and balance techniques. These ladders are a lot of fun for parrots as they allow them to practice various movements and not get bored. In addition, the cage has a large interior space for placing toys so that your pet can diversify their games and develop intellect.
The main advantages of the Vecela cage include its large size, strength, and reliability. It gives you the ease of movement of the cage around the house. You will also love the play area, space for toys, and handy trays that allow you to clean the cage in a couple of minutes.
Can Two Parrots Live in One Cage? Dangers and Benefits
The disadvantages of the Vecela cage include too thin rods and small locks for especially large parrots. It may also be difficult to assemble it yourself if you have little experience.
The cage is ½" bar spacing, 68″ high, 24″ wide, and 25″ long. You can find this model here.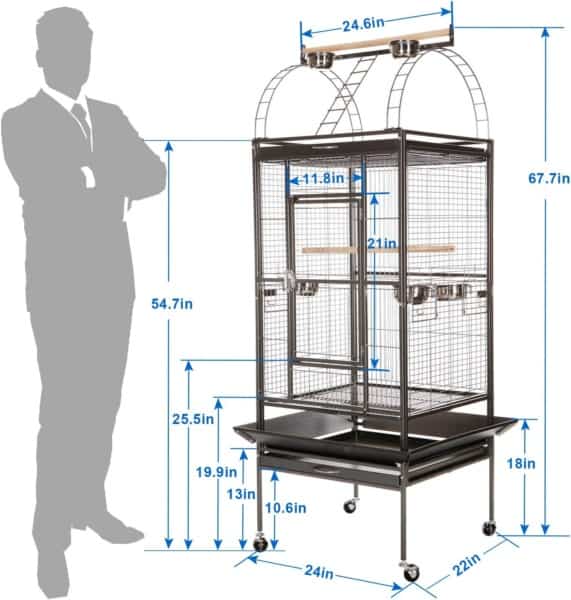 Conclusion
We have found the best cage for Jardine's parrots, and this is Vecela wrought iron cage. This cage is spacious and safe enough for your parrot to enjoy their time inside without risking their health. I recommend placing extra toys and edible entertainment in the cage so that your parrot has fun and can develop their intellect.